Contact

Ferme St Eloy - 14330 Le Molay Littry
FRANCE

Tél : 00336 08 31 72 38
Fax :00332 31 21 11 03
Contact ( UK)

Titouan Amorin

Tél : 0033 676948364
Write us
Horses for sale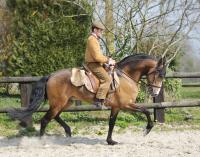 More Info
They trust us: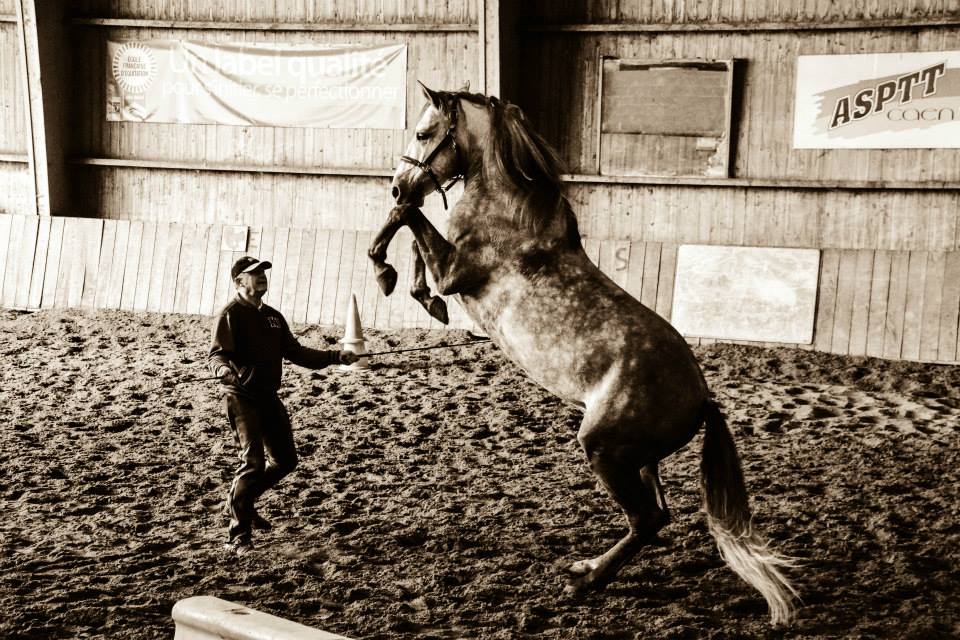 "Cavalier for several years and after having two saddles French I wanted to offer at 57 years the horse of my dreams a Lusitanian: the horse of kings. Upon the second visit I fell off in front of a box in which a young stallion struggled. 3 years just ridden, very expressive and very especially dispelled. Thunderbolt, ok, but not at what conditions imported. Isabelle wanted me to first tame the phenomenon and especially the finish UNCLOG with Vanessa, give the basics of three paces round and loin career on safe before taking him with me. This was done from November 2008 to April 2009 and it is with pride that Ribeiro came to the ECSC (Caen) in April 2009 but it is also a commitment to Isabelle participate every year to MCI which was done the following year with pleasure and especially pride. Ribeiro from the pleasure of the owner and the admiration of the spectators. Like all Lusitano horse is a late development which will culminate in the next 2 years. He has 7 currently low training school is successful and we begin the first fruits of the high school under the guidance of Pierre regular with piaffe, passage, pirouette change of foot and at a gallop. just fun but the road is still long. "Erick Nouzille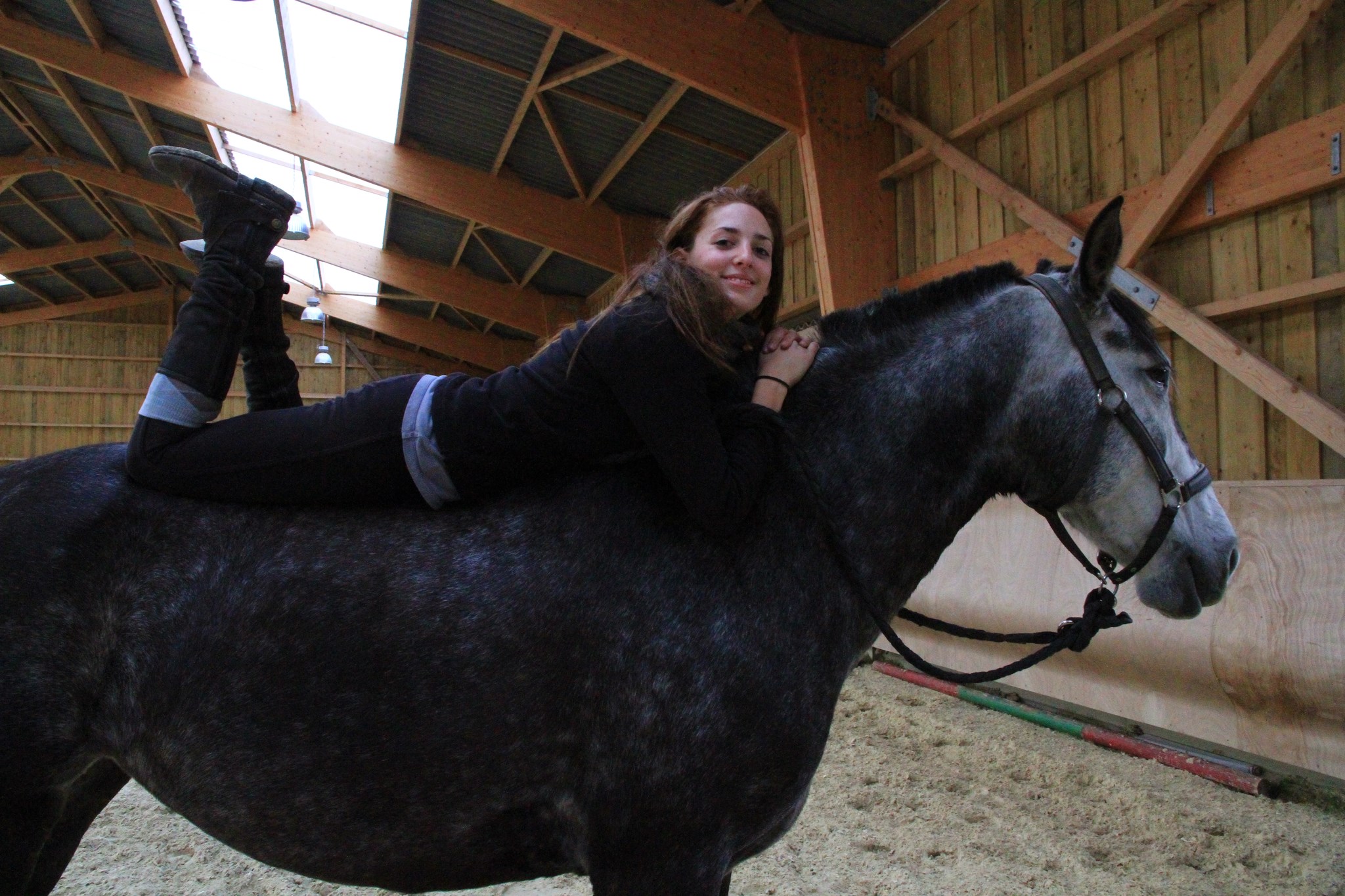 "My dream has always been to have my own horse, to create this unique bond between horse and rider. It is at 21 years (admittedly a little young!) That I decided to embark on this adventure.
I wanted a versatile horse with which I can take pleasure in taming but also the obstacle.
Having your own horse is one thing, but what is more when a Lusitano ... it was unexpected! The Lusitanian horse ideal, the proud bearing and gentle, a dream.
And I took the road towards livestock Saint Eloy, arriving 3 hours later, full of excitement and expectation!
Titouan Amorin make me a tour of the stables and present different horses I immediately had the heart for Taiga, and she trotted (dare I say) in the head without stopping after a few ... days later, I was cracking up: with the help of Titouan, I have achieved my dream with Taiga.
Taiga came early July (2012), and I started stripping with the help of professionals we are now in November, she began to learn the three paces, and began the obstacle with obvious joy, as the following my desires. This mare is a free and voluntary, but she has her own character, her sense of humor to it, I would even say I had some landings, although she seemed to find funny! This mare is a very gentle, very affectionate, and I see our relationship grow day by day. A small horse with a big heart, in a nutshell!
I thank the entire team of livestock, especially Titouan Amorin, for all his good advice and regular monitoring, I know I can always count on coaching!
So thank you for allowing me this adventure with Taiga and see you soon! "Sandra Vallée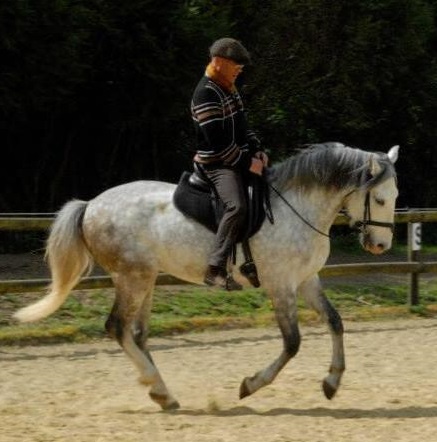 At the age of 54 I wanted to acquire my 1st horse, my choice very quickly focused on the Lusitano at the return of the Fair Golega in Portugal in November 2011 I started looking for .... My 1st idea, envy was a colored male born in France. After a few visits I met "The Lusitanians of St Eloy" not quite by chance as I practice riding with the father of Pierre Guilbaud ....
Then I met Soalheiro, whole 6 years against all odds is not typically gray in color but .... We have not had a thunderbolt strictly speaking, but I immediately felt that we had a "good feeling together" ... A few weeks later, in March 2012, Soal, it's what we now call him, arrived at the stables ....
Solidly educated, low school care for Peter and Vanessa, and having a character of its own Soal is a horse "well placed" as they say but that necessitates to be motivated but once the job is launched to listening and generosity that has characterized the Lusitanians.
He is currently progressing in dressage and regularly goes out alone or in a group several times a week ... At 6 years old he still has a great potential for growth, he shows a character "well defined" and good intelligence ..... In short a great horse .... 1 for experienced rider anyway.
I wish here to thank the team, Peter and Isabelle Titouan for their advice and for the image that gave me of Soal "Michel Weelen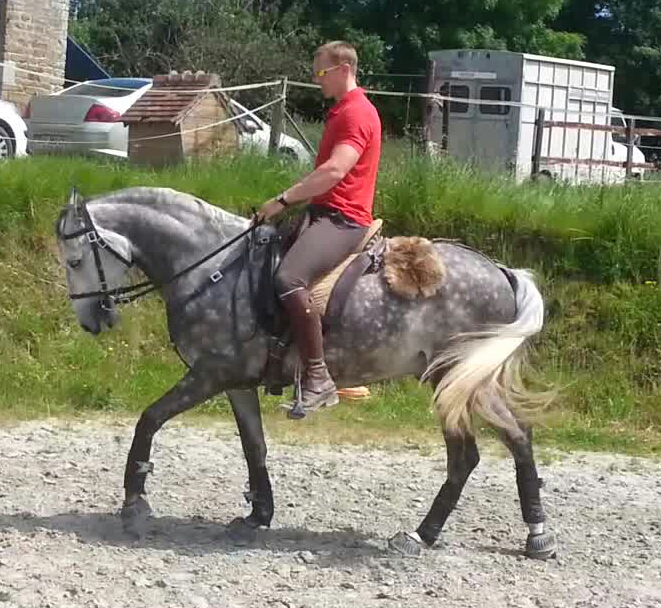 "Valiente has been with us for 2 months. Every day that goes by confirms all the good we thought of him : strong character but never vicious. Valiente's arrival was far from being planned although we have been knowing this stud for 5 years and with whom we have a friendly relationship.
In love with Valiente's father for a long time, it didn't take us long to make up our mind for this horse with character. His conformation tends to be more for working riding and shows more than for dressage competition.
It is such a pleasure to look after, a horse educated with trust, respectful of his rider without being afraid of him. For sure I will advertise the work done as it is praiseworthy.
We are only at the beginning of our story but future is full of promises.
I think he will fully find its place with us where he will be able to show his paces and his bloodlines.
Again a huge thank you to both of you, a special wink at Titouan. Antoine Lanoy"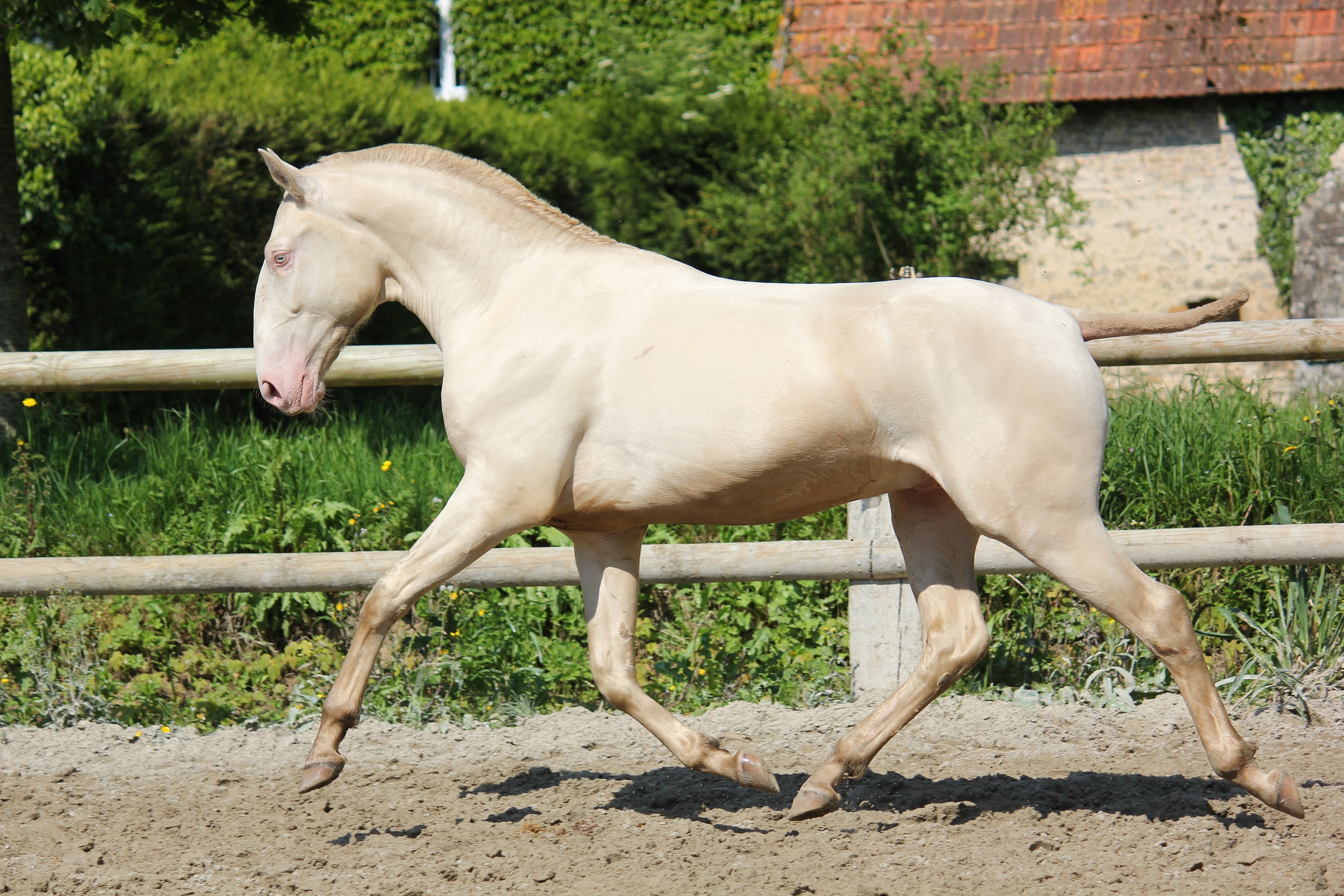 "With horses all my life, I have always loved Lusitano horses. Life is full of lovely surprises, it is necessary to know how to seize them! In 1994, by chance, I met a great breeder who gave me the opportunity to purchase my first brood mare with a foal at foot and in foal; the machine was on its way...Up to 19 Lusitano horses behind the house, good results at French and Belgium championships, magical moments where time seems to freeze in a foal's eyes when he's born, stallions saved from human's clumsiness who replay a hundred times over all the love and trust you are giving them... Time goes by and for my 40th birthday, I wanted to find a new companion to work with, not that my dear Shamann was not fulfilling me anymore but at 24 years old, I think it is time for me to protect her a bit...
It is full of hope that I meet Isabelle and Titouan at St Eloy and then : Eureka!
Yes, in France, serious breeders do exist; they know how to observe, listen, wait and be patient for the magic to take place. Lovely horses, peaceful, educated, looked after, spoiled and respected in their individuality. I was looking for a ridden horse but it was Mister Corsario d'Escolina who was obvious to me! He simply represents my dream horse!
With his statuesque beauty, magnificent paces and delight nature, I fell for him straight away. He is the fruit of a real breeder's work : the good bloodlines mix, good education and perfect looking after. I am entirely satisfied with him and he already has got surprises in store for me : indeed he took chances at Port St Père in the 2 years old male class, but what to say about his qualification for Saumur in September! Now next step is the European Championship in Belgium...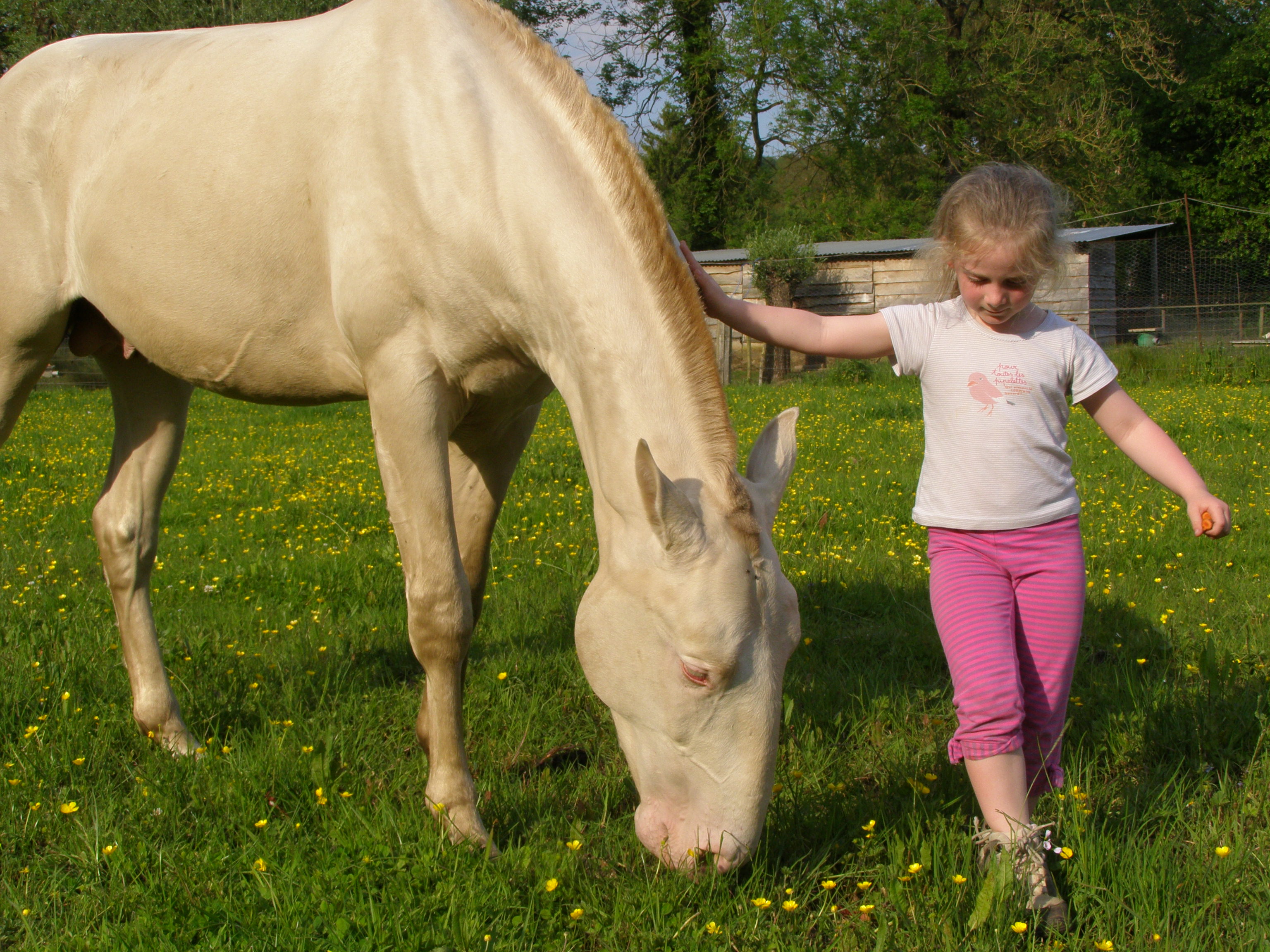 My son prodigy arrives at home on May, 19th and charmed all the family. My 3 old mares (24, 24, 28 years old) are really pleased with this young boy pleasant to look at ...
I simply want to warmly thank Isabelle and Titouan for their work quality and their great kindness. You have beautiful and happy horses and you should be proud of all that! Thank you for that lovely meeting. Kindest regards. Laure"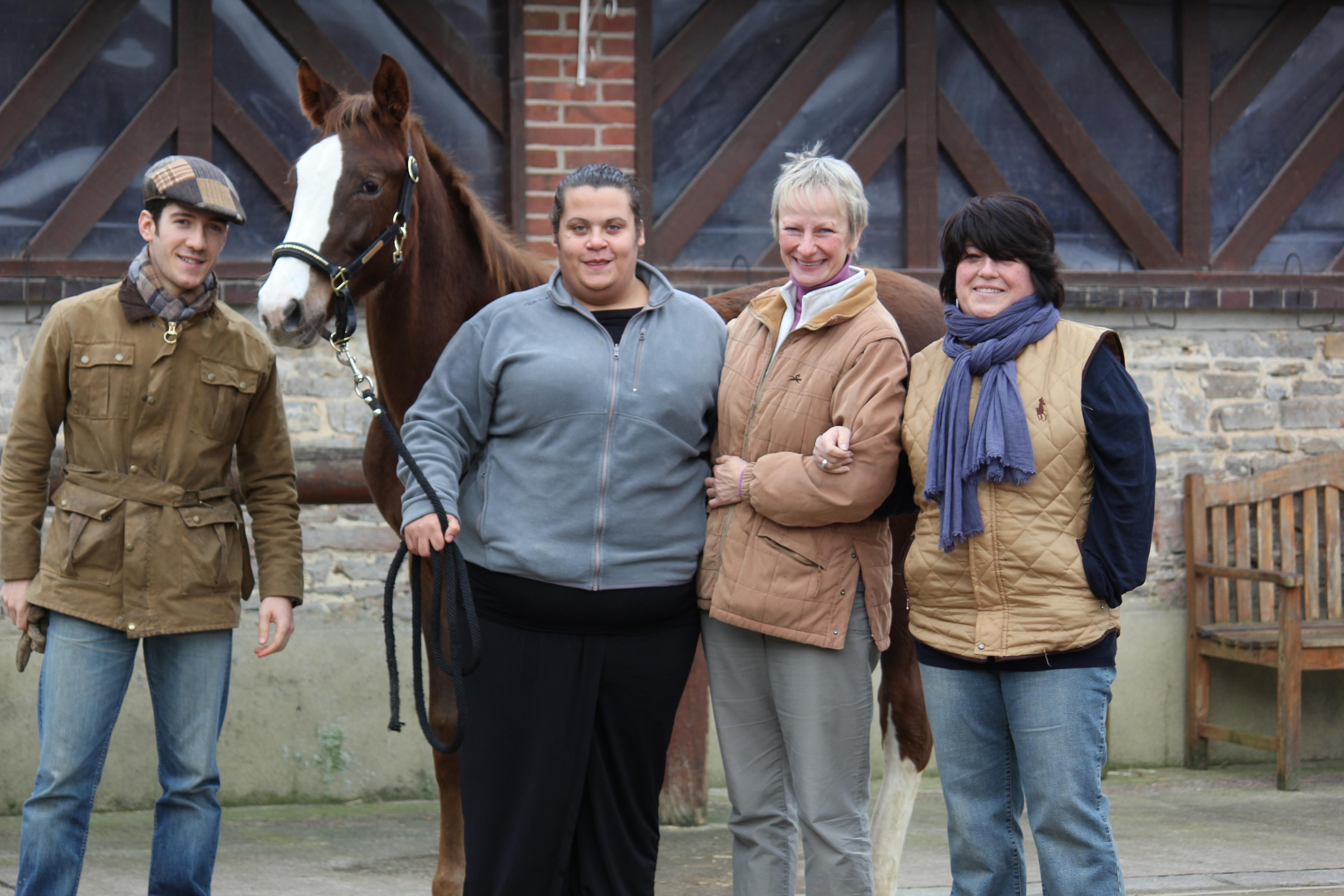 " On June, 9th 2013, in Picardie, Frisette, our brood mare died giving birth to a foal called Diablolo Clary. Rapidly the situation became critical and we had to urgently find a brood mare who could take over. The life of Diabolo depended on it. Wethenfound the St Eloy stud who had a brood mare who lost her foal two days before. On the same day, I was off to Normandy with the little orphan where a big adventure began for the St Eloy team. It was no small challenge !
All were ready to put a lot so that Diabolo could live. Their kindness, skills and will were so obvious that it was with trust that I left at the end of the day. The first two weeks were difficult as the adoptive broodmare Olaïa didn't accept the foal. She had to be tied up and hobbled so that Diabolo could come near the udders. Days and nights spent in the straw to look after him, to tripple and cuddle him. After 2 days, finally the first full sucking ! Despite all that, Diabolo looses its physical powers as the feeds are irregular and he is loosing weight…
On June,15th, visit to the vet ; he was put on a drip for 24 hours and back to Molay Littry where some more treaments had to be given. On top of broodmare milk, feed bottles were necessary every 3 hours.
After 2 weeks, while Mimie took Diabolo out of the stable for care, a so waited neigh happened ! Olaïa was finally a full mother ! I can imagine the joy and the relief of hercircle. What follows is the normal life of a foal amongst his companions.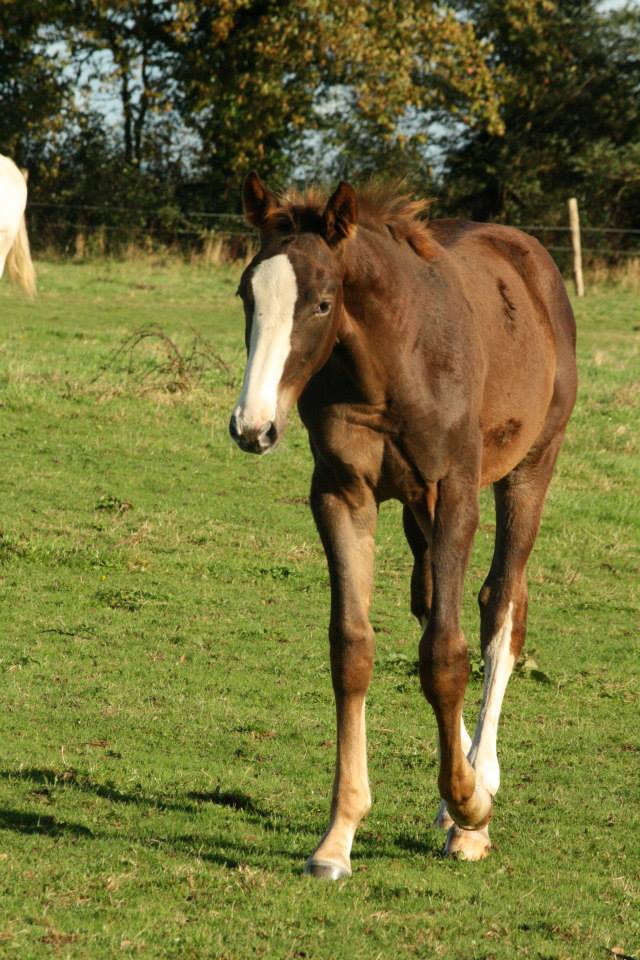 In November, it was necessary to face the facts : Diabolo was almost as big as his mother. The time of seperation had come…
I found a transformed foal and…not ready at all to leave his home ! I don't know if it is because he was bred by a Lusitanobroodmare but Diabolo has lovelypaces. Son of a champion, Diabolo is a Selle Français bred for show jumping. It is difficult to know if he will follow the steps of his eldres but something is sure, whatever his destiny, he will essentially oweit to Titouan and Isabelle Amorin, Anne-Sophie, Vanessa and especially Mimie ( who was so sad the day he left).
With their professionalism, their unfailing patience and their trust, they simplyallowed Diabolo to have a future !
May they be here deeply thanked." Chantal Leflamand.
« Student in animal osteopathy, i had a training session (during my first year of study) to be done in a structure that would enable me to meet different types of horse conformations, analyse their life environment and their behaviour toward sit, the working discipline, the riden work, the competitions…
Arriving at the stud, I was directly introduced to the employees of the stud. Highly motivated, I made myself available to participate to all the task srelated to mucking out the stables, the distribution of hay, straw and horse feed…I could then participate to several activities around the horses, such as foals and young horses education, lungework, breaking horses observation, riden work and preparation of all the things needed for a competition.
Willing to learn, I could find an answer to all my questions while working with people highly communicative of their knowledge. With thosein charge of the general organization of the structure, Charlotte, professional rider or Titouan who supervises many of the activities around the horses.
Working with people acting humanly, passionate and full of knowledge, I noticed that the horses are handled with great care since their young age, step by step, and that everything in the organization focus on their well-being.
Seeing so many people mobilized to make the life of the horse as pleasant as possible in communion with the human, offer them an intelligent training related to his abilities, I came out totally fulfilled of this training period.
My training period was mainly focused on the horse life in a breeding stud but if you are preparing a bac pro, a BTS or sometingelse…that you are motivated and essentially passionate, you will be able to find as many indications as you wish on a breedingstud organization or the work carried out with horses. » Dorine Loison