Contact

Ferme St Eloy - 14330 Le Molay Littry
FRANCE

Tél : 00336 08 31 72 38
Fax :00332 31 21 11 03
Contact ( UK)

Titouan Amorin

Tél : 0033 676948364
Write us
Horses for sale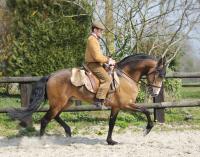 More Info
KAZAN DU COUSSOUL
Pics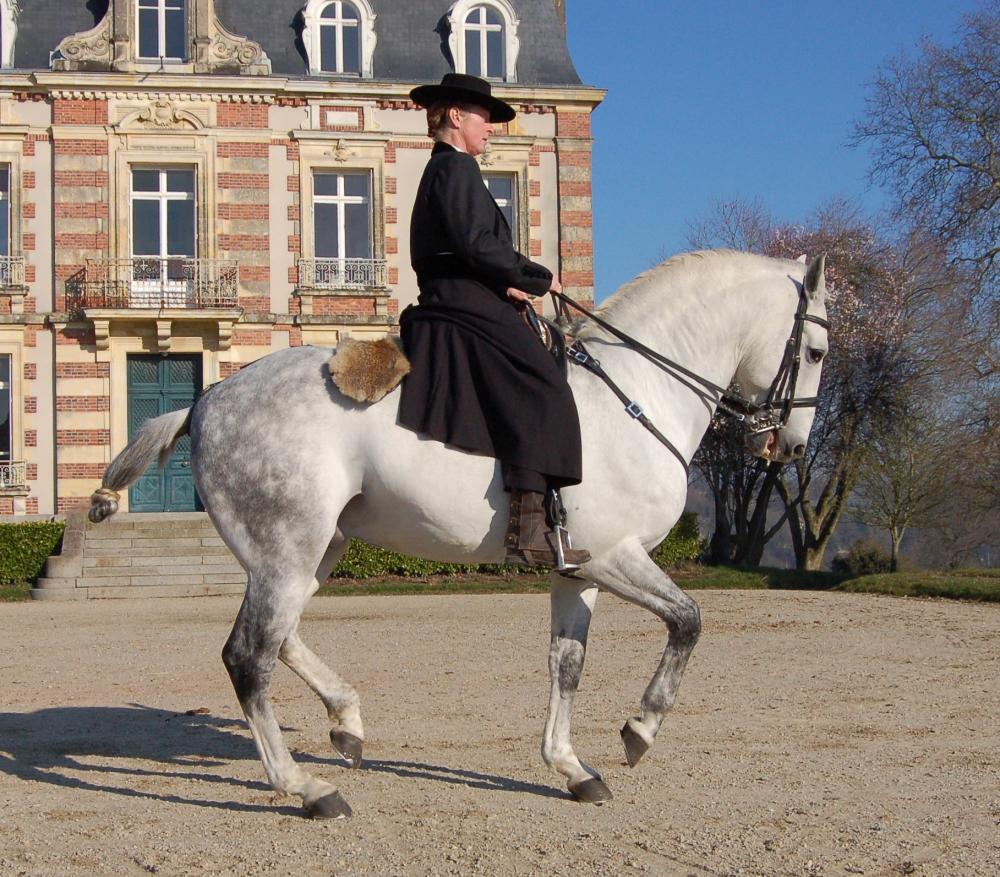 Genealogy
SCAPIN RBO, LUS

EMIR MTV, LUS

QUE BA MTV, LUS

,

,

TOLEIRONA MTV, LUS

,

,

JARDINEIRA APC, LUS

SALTILHO APC, LUS

,

,

ZANGADA II APC, LUS

,

,

ELSINORE MENAUTS, LUS

MIGUELISTA CIP, LUS

GUAPO MTV, LUS

,

,

FASQUIA JRT, LUS

,

,

QUETSCHE RBO, LUS

EMIR MTV, LUS

,

,

VAREIRA FSA, LUS

,

,
This charming and superb example of a Lusitano has many qualities. He has a good work ethic and is easy to ride and train, being amenable to everything that is asked of him. His performance record, type and movement speak for themselves, which makes Kazan Du Coussoul a superb choice for breeders with passion for Iberian blood.

As a four year old he received a gold medal at the French Championships. In 2005, He won male Champion of Champions out of all categories stood Supreme Champion of the show and vice-champion in 2006 at the International show in Lisbon. He is highly recommended by the APSL. Kazan Du Coussoul has been successfully used in crossbreeding with German, Dutch and Belgian horses, producing modern but noble sport horses with outsanding paces, temperaments and trainability. Kazan Du Coussoul's full sister Quina du Coussoul is highly regarded as mare suitable for the cross breeding scheme and has produced offspring by German Dressage stallion Rubin Royal.

Kazan Du Coussoul's sire Scapin is by the outstanding stallion Emir, founder of the Bouzin lineage. Emir sired many champions including Orphee RBO, Spartacus RBO (both international Dressage horses) and Odin of the Cadre Noir in Saumur. Scapin himself also sired Mistral Du Coussoul, a Bronze medal winner at the French Championships. Kazan Du Coussoul's damsire Miguelista is highly appreciated as a damsire of many High School trained dressage horses passing on ability to collect and trainability.
Breeders'point of view: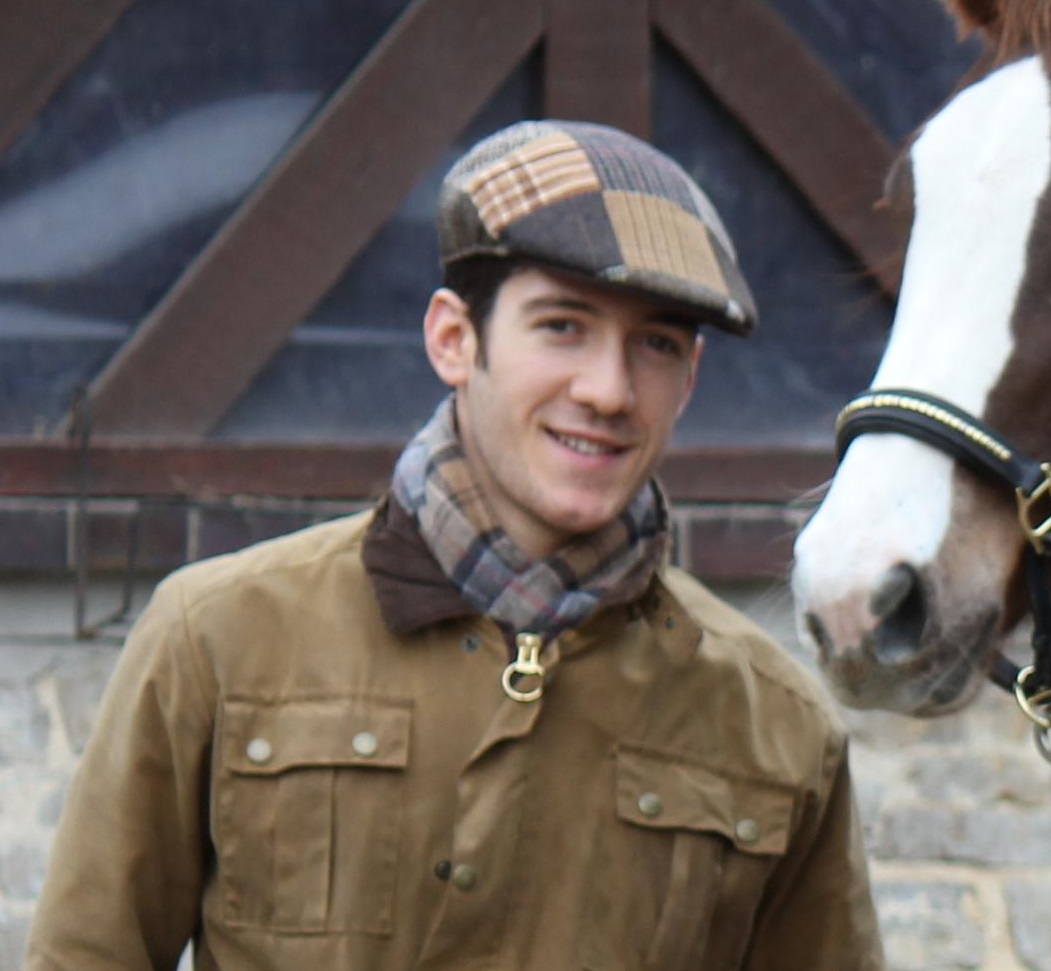 "A stallion which we do not present anymore : it is clear that Kazan considerably improves the paces of the broodmares which he covers. The great majority of his offspring distinguishes itself by a remarkable elasticity and a good balance in the three paces.
Nevertheless, the quality of his paces should not let us forget the most important thing, even maybe the major quality of Kazan : the perfect temperament and back that he passes on. Ideal to bring frame and improve paces of a broodmare."
For the 2015 covering season, the St Eloy stud had the pleasure to be designated as the representative of Kazan du Coussoul by Ceri and John MUIR to provide the semen distribution.
Covering conditions:
1000 € inclusive tax in artificial insemination with fresh semen and with frozen semen (broodmare livery included for the 1st cycle, 21 days)
Participation to technical fees and dispatching
Descendants born at the stud.
In 2009: Vitoria d'Escolina ( IAI), now mare of the stud with 73 POINTS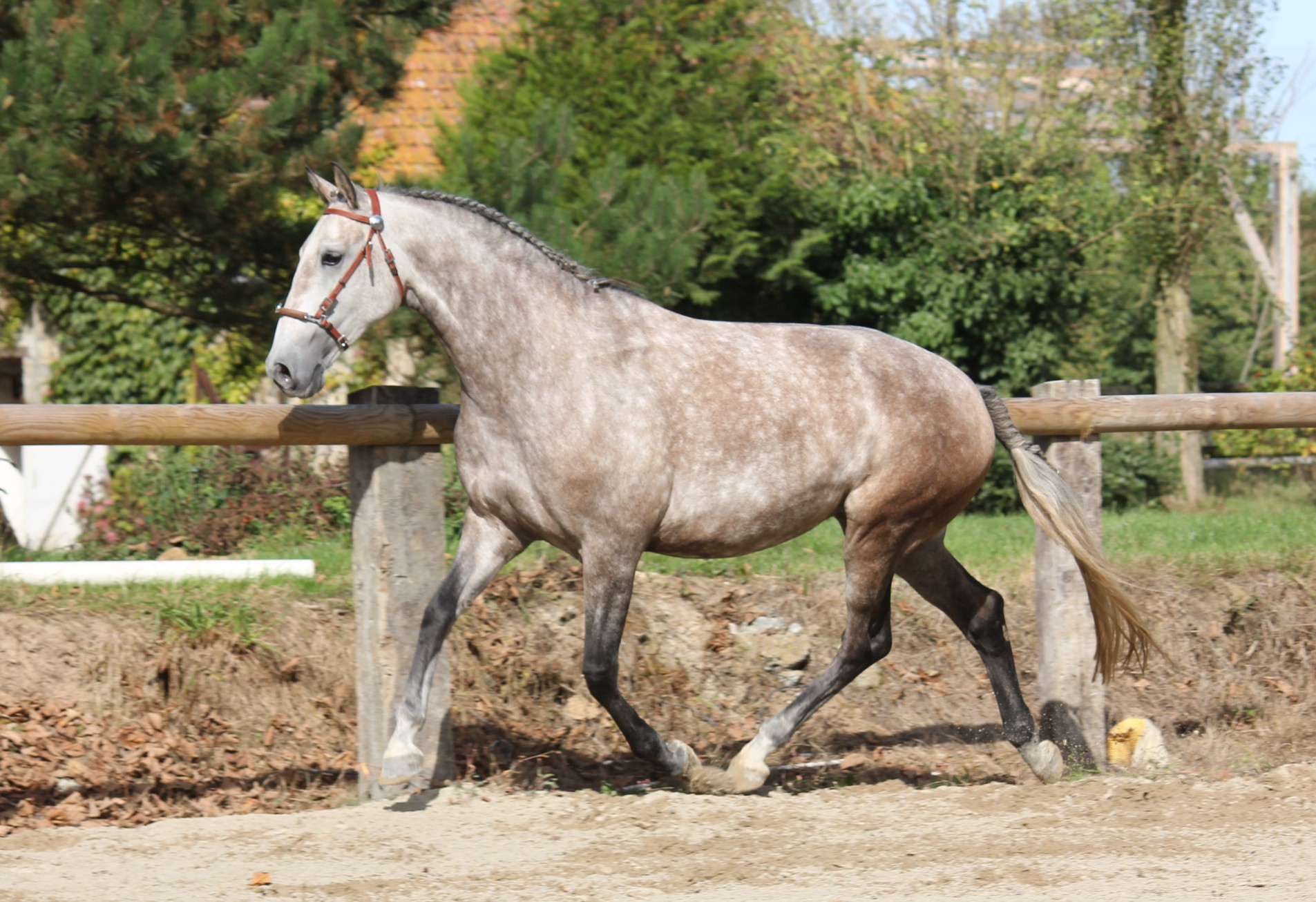 In 20010: Aguarela d'Escolina ( IAI)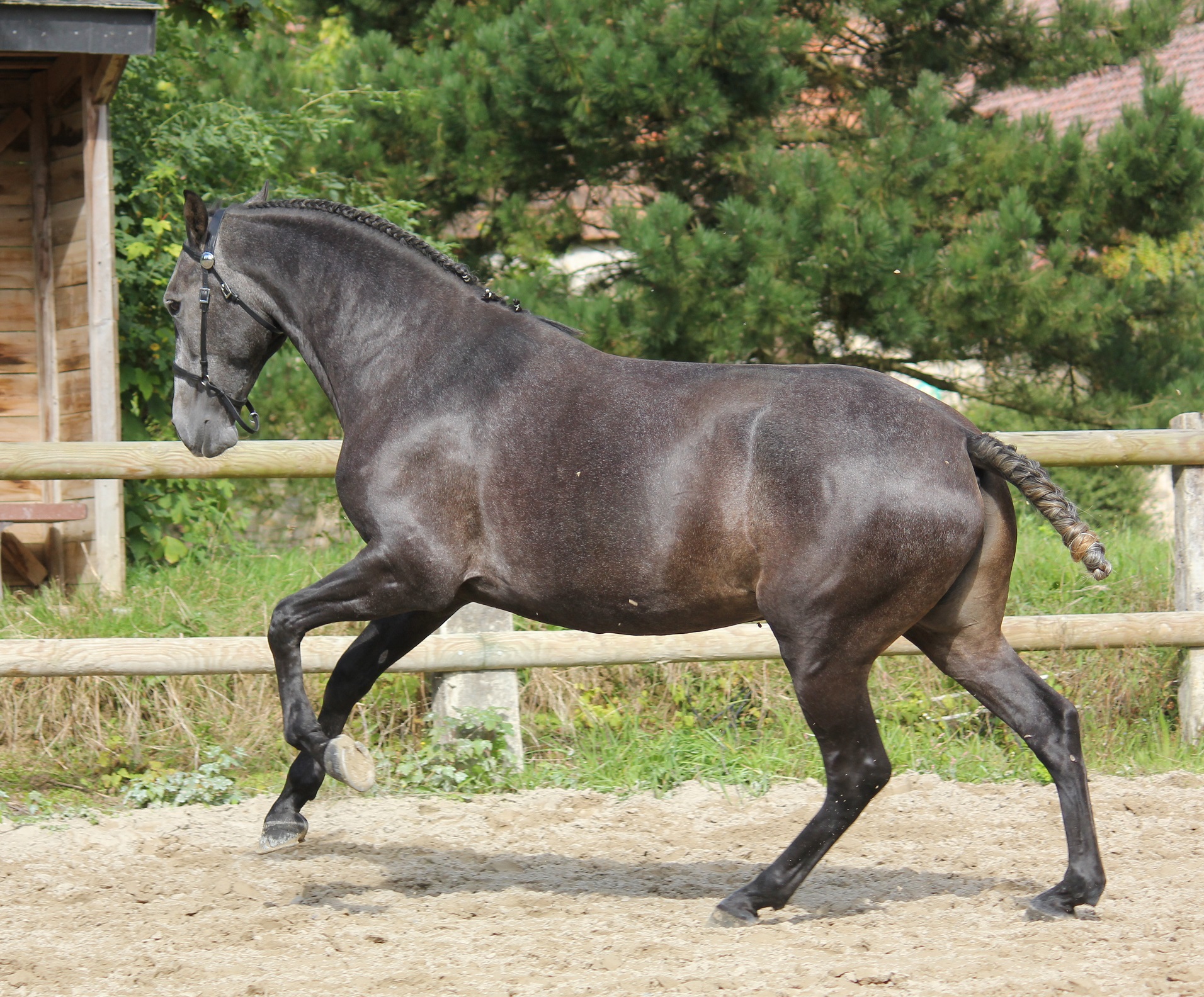 Some products of Kazan abroad
Avela, 1m70, 68 pts, Kazan & Tulipa ( QL) out of Xaque ( CIP). Mare at the Benavis stud ( Spain)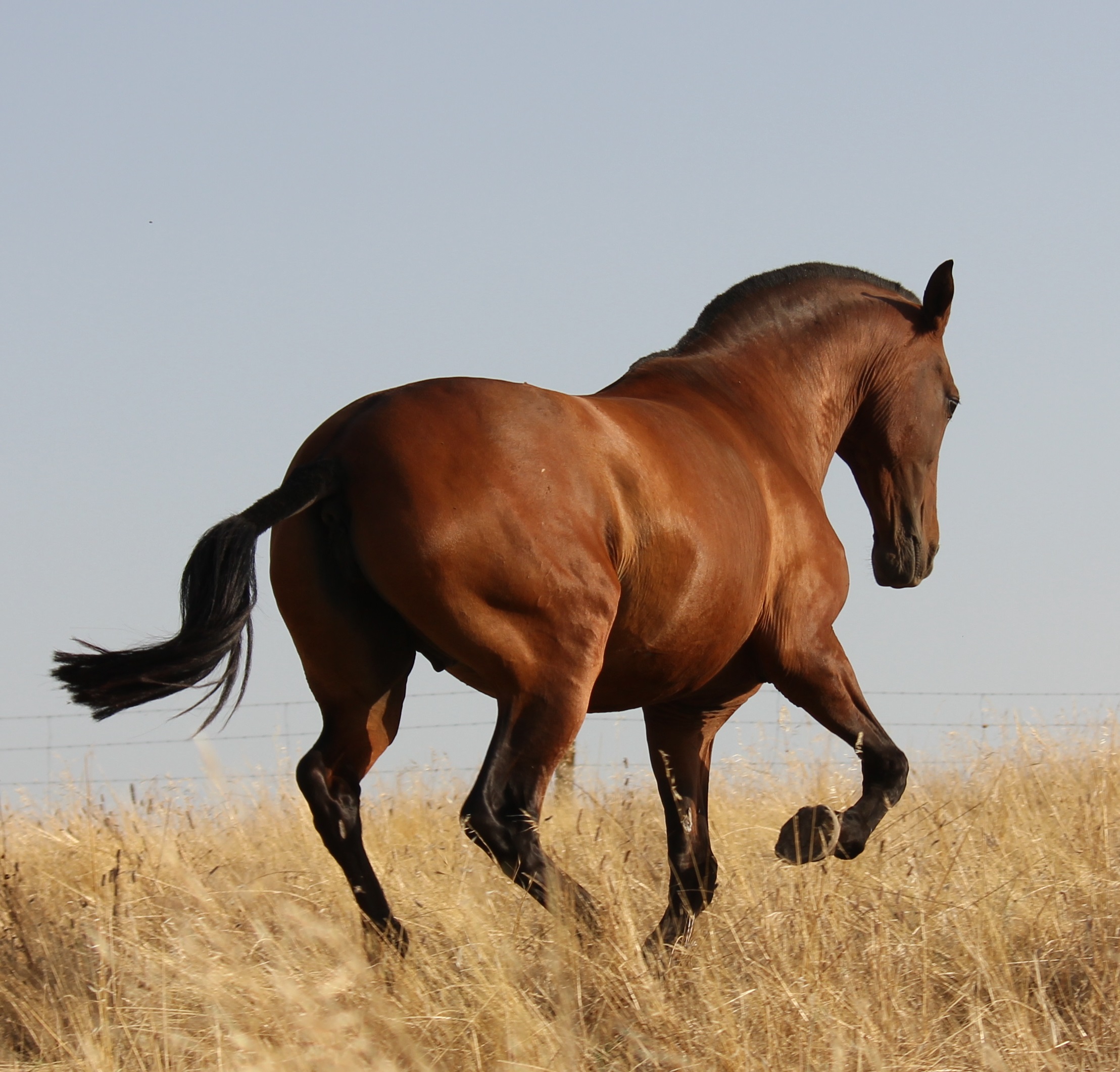 Violina du Parc, 1m71, 72 pts, Kazan & Idol des Frettes out of Boulou des Frettes. Mare at Elevage du Parc stud ( FRANCE)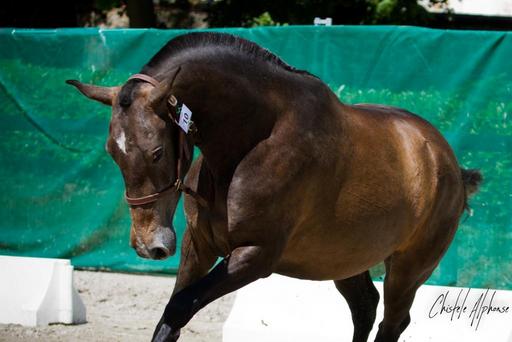 Callabrigo, Vitor Valente stud, 1m61, 67 pts.
Aznavour, ( Pierre Jouneau Stud), Kazan & Rauxane.
Zamora ( Inacio Ramos Stud), Kazan & Optima ( LP) out of Opus-72 ( MV)

Zita ( Inacio Ramos Stud), Kazan & Leziria out of Donaire ( Oliveira Irmãos)